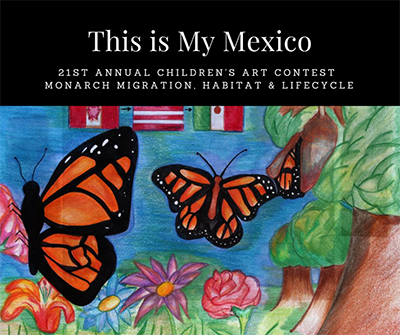 The 21st Annual "This is My Mexico" Children's Art Contest, brought to you by the Institute of Mexicans Abroad (IME), is open for submissions until Friday, October 13, 2017.
The theme of this year's contest is "The Monarch and its Lifecycle in North America".
The contest is an invitation for all children ages 6 - 14 "to know and draw the Monarch, its habitat and migration through three countries, the stages of its life and all the challenges it faces on its path to fulfill its destiny." Drawing and paintings made with the materials of the artist's choice must be submitted on a 12" x 12" square cardboard or artboard, with the registration form attached to the back. Artwork may be submitted to the nearest Mexican Embassy, Consulate of Mexico or Delegation of the Ministry of Foreign Affairs, by the October 13 deadline.
Twelve winning artworks and fifty "honorable mentions" will be selected from around the world to receive prizes and be published in the Institute of Mexicans Abroad 2018 calendar. These sixty-two pieces will also comprise an itinerant exposition that will debut in Mexico City, then travel around the world for display.
All winners will be announced online Monday, Nov. 14.
Download the entire information packet, with contest rules and the entry form, here, or visit www.ime.gob.mx/esteesmimexico2017, where this information may be found in Spanish.